2017/12/13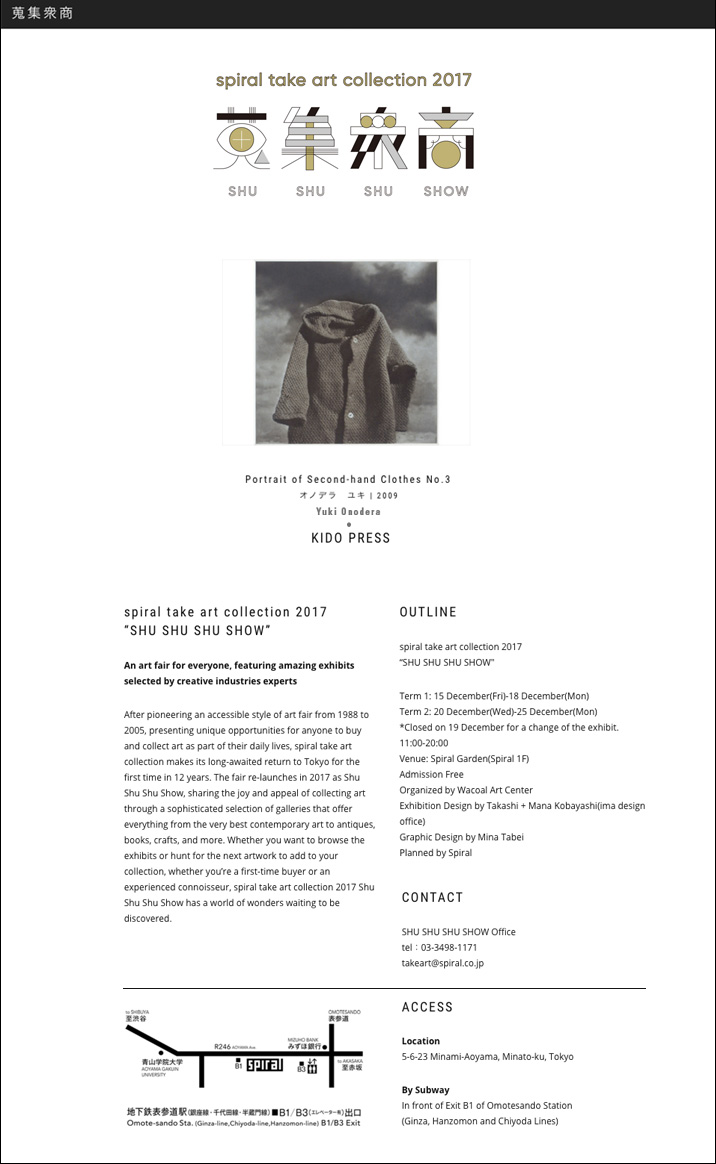 ---
spiral take art collection 2017 
"SHU SHU SHU SHOW"
An art fair for everyone, featuring amazing exhibits selected by creative industries experts
http://www.spiral.co.jp/takeart/
Yuki Onodera
Portrait of Second-hand Clothes No.3
KIDO Press
http://www.kidopress.com/index.html
After pioneering an accessible style of art fair from 1988 to 2005, presenting unique opportunities for anyone to buy and collect art as part of their daily lives, spiral take art collection makes its long-awaited return to Tokyo for the first time in 12 years. The fair re-launches in 2017 as Shu Shu Shu Show, sharing the joy and appeal of collecting art through a sophisticated selection of galleries that offer everything from the very best contemporary art to antiques, books, crafts, and more. Whether you want to browse the exhibits or hunt for the next artwork to add to your collection, whether you're a first-time buyer or an experienced connoisseur, spiral take art collection 2017 Shu Shu Shu Show has a world of wonders waiting to be discovered.
OUTLINE
spiral take art collection 2017 "SHU SHU SHU SHOW »
Term 1: 15 December(Fri)-18 December(Mon) Term 2: 20 December(Wed)-25 December(Mon) *Closed on 19 December for a change of the exhibit. 11:00-20:00
Venue: Spiral Garden(Spiral 1F) Admission Free Organized by Wacoal Art Center Exhibition Design by Takashi + Mana Kobayashi(ima design office) Graphic Design by Mina Tabei Planned by Spiral
CONTACT
SHU SHU SHU SHOW Office tel:03-3498-1171 takeart@spiral.co.jp
Location
5-6-23 Minami-Aoyama, Minato-ku, Tokyo
By Subway In front of Exit B1 of Omotesando Station (Ginza, Hanzomon and Chiyoda Lines)
---
KIDO Press, Inc.
3331 Arts Chiyoda 204
Gallery hours:12:00-19:00 Closed on Mon,Tue,National Holidays
3331 Arts Chiyoda 204, 6-11-14 Sotokanda Chiyoda-ku Tokyo 101-0021 Japan
Tel & Fax :03-5817-8988   +(81)35817-8988 mail : printart@kidopress.com web : www.kidopress.com
---