---
『写真 ? なぜ ?』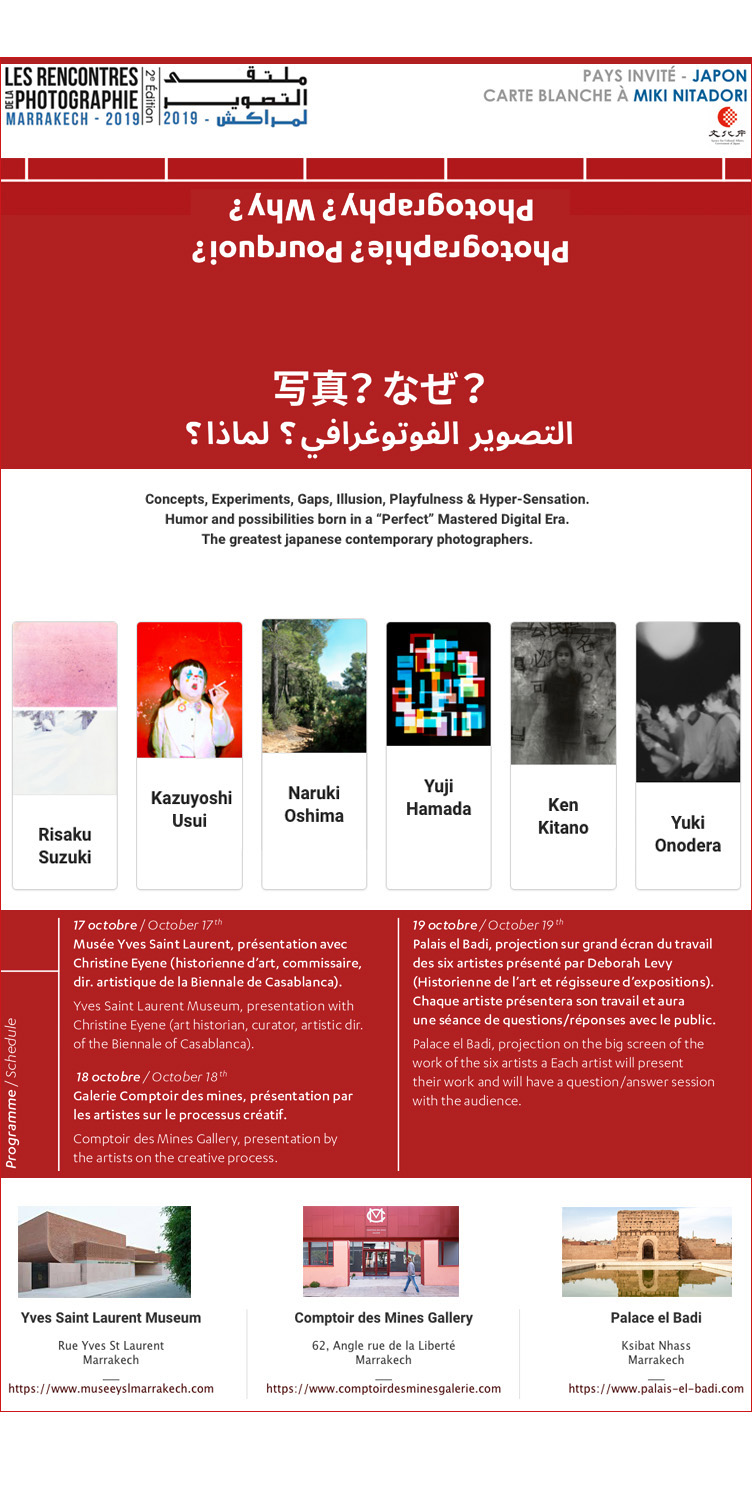 http://photographywhy.com/
Les Rencontres de la Photographie
マラケッシュ写真フェスティバル
MARRAKECH-2019
2e édition
Pays Invité - JAPON
Carte Blanche à Miki Nitadori
"Photography? Why?"
『写真 ? なぜ ?』
Concepts, Experiments, Gaps, Illusion, Playfulness & Hyper-Sensation.
Humor and possibilities born in a "Perfect" Mastered Digital Era.
The greatest japanese contemporary photographers.
Risaku Suzuki, Kazuyoshi Usui, Naruki Oshima, Yuji Hamada, Ken Kitano, Yuki Onodera.
鈴木理策、薄井一議、大島成己、濱田祐史、北野謙、オノデラユキ.
Program
October 17 2019 6:45-8:45 pm
Yves Saint Laurent Museum
会場:マラケシュ・イヴ・サンローラン美術館
Presentation with Christine Eyene (art historian, curator, artistic director of the Biennale of Casablanca)
Rue Yves St Laurent
Marrakech
https://www.museeyslmarrakech.com
October 18 2019 7:00-9:00 pm
Comptoir des Mines Gallery
会場:ギャラリー・コントワール・デ・ミン
Presentation by the artists on the creative process with Khalil Nemmaoui and Zineb Andress Arraki
62, Angle rue de la Liberté
Marrakech
https://www.comptoirdesminesgalerie.com
October 19 2019 9:00-11:00 pm
Palace el Badi
会場:エル・バディ宮殿
Projection on the big screen of the work of the six artists introduced by Deborah Levy (art historian and exhibition state manager).
Each artist will present their work and will have a question / answer session with the audience.
Ksibat Nhass
Marrakech
With the support of The Agency for Cultural Affairs of the Government of Japan in the fiscal year 2019
Event present at The Second International Meeting of Photography in Marrakech
Project Organization: Go Ahead Research
Contact
email :contact@goaheadresearch.com
•
•
•
•
•
•
•
•
•
•
•
•
---