---
Here, No Balloon.
2022, 2.5D (StareReap) Print on gelatin silver print, collage on canvas.
This story begins with a single photograph taken in early 1900s Paris.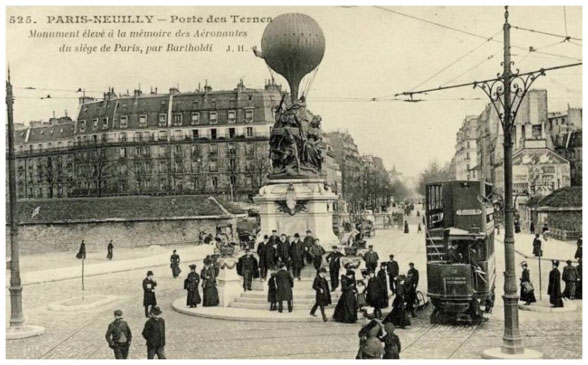 We see a crowd garbed in period dress posed in front of a triumphant monument. Multiple figures overlap in a writhing pile of bronze that supports a large balloon overhead. In all my years of living in Paris, I had never seen anything else quite like it.
I did some research and learned the monument was designed by Bartholdi (the same sculptor best known for the Statue of Liberty) in celebration of hot air balloon pilots and carrier pigeons. The monument was destroyed long ago, melted down in 1941 along with hundreds of other sculptures during the Nazi occupation of Paris.
I was unsettled by the thought that something so monumental could be melted down. In retrospect, I suppose it should have been obvious that bronze is metal and metal melts. Whereas the destruction of paintings and photographs entails burning or shredding, it dawned on me that when sculptures are melted down, their material can be reused, allowing them to be reborn as something new.
"Melting away into the slurry of a hundred sculptures . . ."
I grabbed a camera and headed to the Porte de Ternes. In the modern day, the site has a new monument in the form of a gleaming high-rise hotel that unabashedly punctures the skyline. A restaurant signboard bearing the name "Ballon des Ternes" was the only vestige of past memory. Imagining myself in the square as it looked in that old photograph, I walked around where the monument presumably once stood, documenting the scene on black-and-white film. All the while, my mind filled with thoughts of hot air balloons and carrier pigeons—modes of past technology and primitive communication. I returned to the darkroom and turned this film into large-format gelatin silver prints measuring nearly two-meters tall that would take on an even more outsized presence when assembled into a collage on coarse canvas.
The work in this exhibition combines the gritty, sand-like texture of these dramatically blown-up prints with the liquid layers of the StareReap printer to unique, interdimensional effect. For me, the process was tantamount to recalling and restoring the sculptures in an inversion of their destruction. In a meditation on this motif of "melting", these digital photographs of an absent melted object were further developed in a molten solution that imbued them with myriad images, as if being overlayed with the weight of the passage of time. In a binary of collision and melding, we have the StareReap's smooth yet contoured, paint-like color images and modern monochrome prints.
This series of seven life-sized prints lining the panoramic walls of the Ricoh Art Gallery bring part of Paris to Ginza. I hope the aberrant images transplanted onto these prints take viewers on a journey back through the fog of time, place, and image.
Yuki Onodera
https://yukionodera.fr/en/works/here-no-balloon/trackback/
https://yukionodera.fr/en/works/here-no-balloon/