---
The Getty Museum 2015 – 2016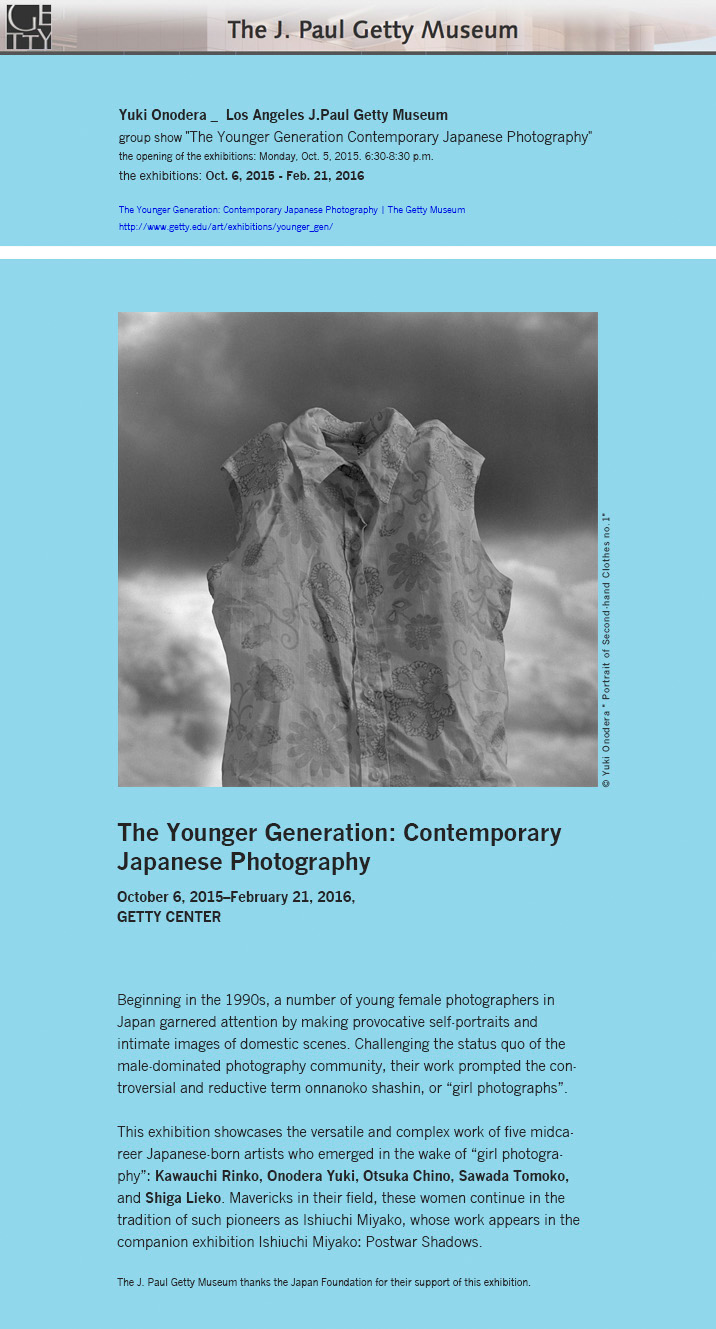 Yuki Onodera Los Angeles J.Paul Getty Museum 
group show "The Younger Generation Contemporary Japanese Photography" 
the opening of the exhibitions: Monday, Oct. 5, 2015. 6:30-8:30 p.m. 
the exhibitions: Oct. 6, 2015 – Feb. 21, 2016 
http://www.getty.edu/art/exhibitions/younger_gen/
The Younger Generation: Contemporary Japanese Photography
October 6, 2015–February 21, 2016, 
GETTY CENTER
Beginning in the 1990s, a number of young female photographers in Japan garnered attention by making provocative self-portraits and intimate images of domestic scenes. Challenging the status quo of the male-dominated photography community, their work prompted the controversial and reductive term onnanoko shashin, or "girl photographs".
This exhibition showcases the versatile and complex work of five midcareer Japanese-born artists who emerged in the wake of "girl photography": Kawauchi Rinko, Onodera Yuki, Otsuka Chino, Sawada Tomoko, and Shiga Lieko. Mavericks in their field, these women continue in the tradition of such pioneers as Ishiuchi Miyako, whose work appears in the companion exhibition Ishiuchi Miyako: Postwar Shadows.
The J. Paul Getty Museum thanks the Japan Foundation for their support of this exhibition.
© Yuki Onodera "Portrait of Second-hand Clothes no.1"
---